Aluminum foil sheet is a common spare in home cabinets. It has the advantages of low price, easy to use, disposable, no cleaning, high temperature resistance and heat preservation.
(1) Oil-proof and cleaning aids. First of all, we can fold the aluminum foil at a more beautiful angle and spread it on the plate. Then we can put on greasy dishes. After eating, as long as the aluminum foil is removed, the cleaning can be done more easily. Similarly, it can also be laid on the dipping board to cut greasy food materials, so as to prevent the dipping board from being difficult to clean. Or before cooking, the aluminum foil can be pasted on the wall in front of the gas stove, so as to avoid the oil stains sprayed difficult to remove.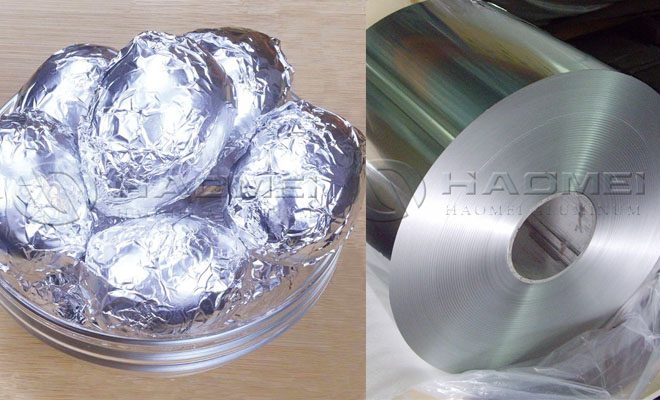 (2) Carbon baking and flavor enhancement of wrapped food materials, of course, can also be wrapped in aluminum foil for barbecue, such as corn, it can lock the fresh and sweet flavor of food materials! Aluminum foil generally has a light and fog surface. One side of aluminum foil is bright, the other side is not bright, how to use it? aluminum foil shiny side up or down.Aluminum foil is divided into smooth surface and fog surface, so which side should be directed towards the photothermal place? Fog surface is easier to absorb heat, so the fog should be directed towards the photothermal place, in order to play its role. Therefore, when baking food, wrap the food in the bright surface of aluminum foil and face the charcoal fire in the fog, the food is easy to bake.
Some people say that barbecuing with aluminium foil can cause cancer, but the Health Bureau points out that there are no reports about the toxic substances produced by barbecuing food covered with aluminium and tin foil. However, based on safety considerations, the Department of Health advises consumers not to drop acid substances such as lemon juice into aluminium foil when baking food wrapped in aluminium foil, because aluminium foil is a metal. When metals are mixed with acid substances, chemical changes will occur, which is prone to produce harmful substances to human body.
(3) It can help freeze quickly. Meat or seafood bought from the market can be wrapped in fresh film, then wrapped in a layer of aluminum foil art into the freezer, so that food can be frozen faster and keep food fresh!.
And don't throw away used aluminum foil like this! Let's reuse them again! 1. We can crush used aluminum foil into a small ball and throw it into the drain hole of the dishwasher. The aluminium foil ball will collide with the drainage hole after being washed by water, which will produce metal ions. The drainage hole is not easy to stick to the greasy residue of kitchen and has the function of deodorizing.
(4) There are many edges and corners in the rolled aluminium foil, which can scrape like sandpaper. At this time, it can be used to scrape the peel of potatoes, burdock, ginger and other fruits without worrying about too much peeling, and the details are easy to peel, becoming a safe peeler.
(5) It can also be used to remove the burning part of the bottom of the pot. However, if the family is using stainless steel pot, avoid using this method, easy to scratch.
(6) The blunt scissors in the home can easily be restored by cutting them on two or three layers of aluminum foil on grill. Similarly, you can also fold several overlapping sheets of aluminum foil, and then cut them slowly with a kitchen knife, as a ready-made grindstone!
(7) It may not be necessary in the tropics. In countries like Japan, Europe and the United States where winter snows, when the weather is cold, drainage pipes are liable to freeze and water cannot come out. At this time, the water pipe can be wrapped with non stick aluminum foil, which is said to insulate the frozen air.