Aluminium foil rolls can be divided into 1xxx, 3xxx and 8xxx by series, the most frequently applied are 8xxx series, including 8011, 8021 and 8079, among which 8011 covers the widest scope of application. It can almost replace any other aluminium foil grade in any application, from food packaging to battery foil. Then how much is the price of 8xxx aluminium foil rolls? It depends on the grade and thickness of the foil as well as rolling methods of raw materials.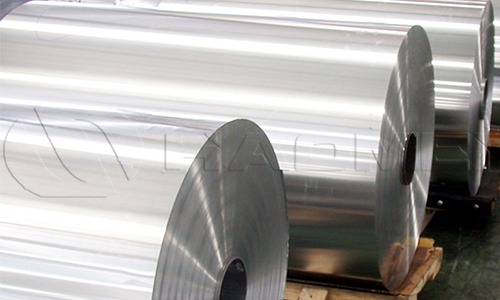 8011 aluminum foil price proves to be the lower than the other two alloys, for it's the most popular and its manufacturing process is the maturest. Because of its excellent sealing, plasticity, corrosion resistance, etc., it is widely used in food and beverage, cigarette medicine, household daily use and other fields. 8021 aluminum foil is the main product of food packaging and battery soft aluminum foil. Compared with 8011, 8079 aluminum foil has higher strength, better elongation and stretching ability. 8079 aluminum foil has all the advantages of 8011, and it is easier to process beautiful patterns and patterns in various colors, so it is very popular in the packaging industry. Accordingly the price of 8021 and 8079 is higher.
  Thickness of 8xxx aluminium foil is grouped in the same way as ordinary foil roll. There are thin aluminium foil(0.005-0.009mm), medium thick aluminium foil(0.01-0.1mm) and great value heavy duty aluminum foil (0.1-0.2mm). Generally speaking, thicker foil rolls are cheaper by weight, for thinner rolls entail more and preciser casting steps.
  There are no differences among aluminium foil rolls by hot and cold rolling. When we speak of hot or cold rolling for aluminium foil, we refer to the rolling method of its raw materials. Whether it's cold rolled or hot rolled, the aluminium foil blanks are sent to the rolling mill for rough rolling, intermediate rolling and finish rolling. The price for 8xxx aluminium foil of hot rolled materials are more expensive.