An aluminium foil for cigarette packaging is the most commonly used composite film, usually containing pure aluminum (AL) and aluminum (VMPET). Its characteristics are as below.
  1. The aluminium as packaging material has a good mechanical strength, light weight, no thermal adhesion, good metallic luster, good light-shielding property, strong reflection ability to light, not easy to be corroded, good barrier property, moisture-proof and waterproof, airtight and nice fragrance.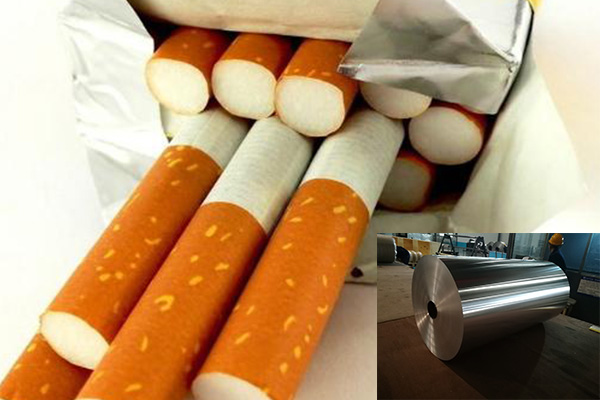 2. The packaging aluminium foil for cigarettes are metallic luster, gas barrier property, and low adhesion viscosity. After the composite processing, the aluminum plating layer transfer phenomenon is likely to occur.
  3. The aluminium foil for cigarette packaging has basically replaced asphalt moisture-proof paper because of its high softness, decoration and protection. It has become the leading packaging material for cigarette packaging, and will gradually withdraw the newly emerging aluminum-plated paper from the field of cigarette packaging.
  The combination of cigarette aluminium foil rolls adopts the wet bonding process, which has a better production efficiency, economy and environmental protection than the dry method and the hot melt bonding. It uses a water-soluble or water-dispersible adhesive to bond aluminum foil to a porous, highly hygroscopic liner, eliminating the problems associated with the use of enamel solvents in dry-laid applications, such as environmental pollution, residual solvents, additional waste gas recovery and discharge devices etc., so that the production process and products are more hygienic and safe.