Household aluminium foil and food grade aluminium foil are not the same thing. Household aluminium foil rolls are definitely of food grade, but food grade rolls are not necessarily household ones. By household we mean kitchen or used at home directly.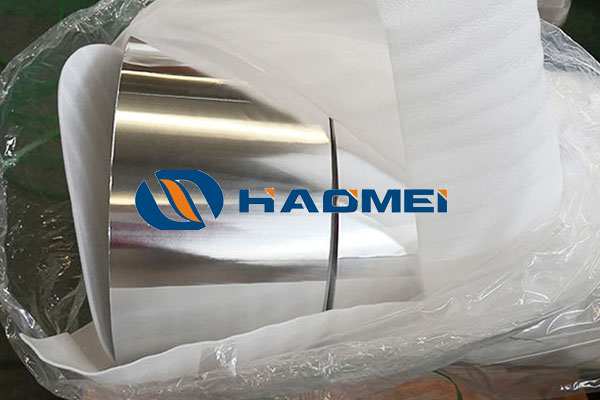 Food grade aluminum foil is free from toxic elements like heavy metals, and its surface is clean without rolling oil after being annealed at high temperatures. It's further divided into household and packaging aluminum foil. The former is made of 8011 aluminium alloy, with a thickness between 0.015mm and 0.02mm, and width from 300mm to 450mm. Household rolls spotted at shops are usually small, weighing only less than 2kg, packed in a cardboard box. These, however, are not what Haomei Aluminium supplies. We usually get in contact with clients from overseas who purchase rolls with a weight no less than 20kg and cut the rolls into parts of shorter length and small width. The cut parts are eventually rolled into smaller rolls and placed in cardboard boxes sent to super markets. There's no need to worry about safety problem of 8011 aluminium foil for household use from China, for most of our products are exported to America and Europe.
  Packaging aluminum foil is the other important use of food grade aluminum foil. It's used to package food. The world's food industry is in an important period of vigorous development. The emergence of aluminum foil for food packaging has greatly improved the level of food processing and accelerated the modernization of people's diet. There are two main applications of aluminum foil in food packaging: one is aluminum-plastic or aluminum paper composite packaging; the other is aluminum-plastic paper multilayer composite packaging. China's food aluminum foil demand is about 30,000 tons / year. Haomei Aluminum is a large-scale manufacturer of aluminum foil raw materials for food packaging. The raw materials of aluminum foil for food packaging are mainly 1 series, 3 series and 8 series products, mainly including model numbers 1060, 1100, 3003, 8011, 8021 and so on. According to the needs of the packaged food, the softness and hardness of the alloy is selected, that is, the alloy state. The commonly used states are H14, H16, and H18.