What is aluminium foil
Aluminium foil is a very thin sheet of rolled aluminium supplied in its pure form ('commercial purity') or in a variety of alloys and tempers which give a wide choice of tensile properties.
The thickness of aluminum foil sheets ranges from the thinnest currently produced commercially at about 0.0065 mm (or 6.5 µm) to the defined upper limit of 0.2 mm (or 200 µm). Material thicker than 0.2 mm is defined as sheet or strip.
Aluminium foils thicker than 25 μm are impermeable to oxygen and water. Foils thinner than this become slightly permeable due to minute pinholes caused by the production process.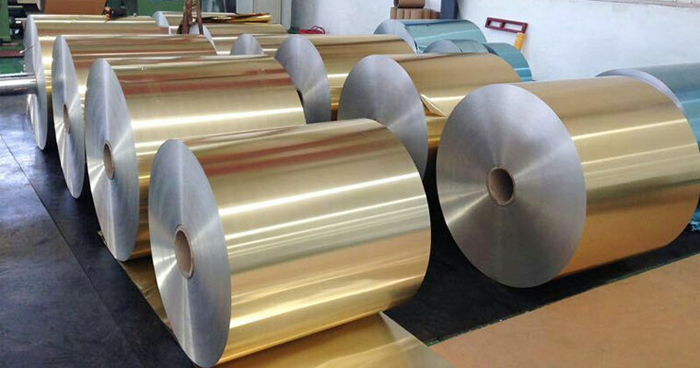 Aluminium foil has a shiny side and a matte side. The shiny side is produced when the aluminium is rolled during the final pass. It is difficult to produce rollers with a gap fine enough to cope with the foil gauge, therefore, for the final pass, two sheets are rolled at the same time, doubling the thickness of the gauge at entry to the rollers. When the sheets are later separated, the inside surface is dull, and the outside surface is shiny. This difference in the finish has led to the perception that favouring a side has an effect when cooking. While many believe (wrongly) that the different properties keep heat out when wrapped with the shiny finish facing out, and keep heat in with the shiny finish facing inwards, the actual difference is imperceptible without instrumentation. Increased reflectivity decreases both absorption and emission of radiation. Foil may have a non-stick coating on only one side. The reflectivity of bright aluminium foil is 88% while dull embossed foil is about 80%.
The attributes of aluminum foil art
• Abundance – aluminium is plentiful with no danger of world depletion.
• Barrier efficiency to light, gases, oils and fats, volatile compounds and water vapour
• Temperature resistance from deep-freeze to oven processing
• Heat conductivity and reflectivity
• Electrical conductivity
• Strength and durability
• Compatibility with foods and pharmaceuticals
• Ease of lamination and coating
• Flexibility
• Formability and non-returning dead-fold
• Decorative potential, brilliant or matt surface
• Printability by flexo, gravure and offset litho
• Non-toxicity
• Low weight
• Recyclability
• Corrosion resistance
• Cost-effectiveness – optimum performance yet resource economy
Surface finish
Corrosion Resistance
The naturally-occurring surface oxide on all aluminium in the presence of oxygen in the atmosphere acts as a shield and renders foil substantially corrosion resistant. Aluminium is also chemically resistant in contact with substances in the pH range 4 to 9.
Compatibility with food and chemicals
Non-reactive except to substances of high acidity or alkalinity (see Corrosion Resistance). Resistant to most common compounds in solution.
Formability
Dead fold
Non-absorbency
Non-absorbent and proof against grease, oil, water and other liquids.
Hygiene
Foil is sterile following annealing, and does not harbour or support the growth of bacteria.
Toxicity
Aluminium is present in many fresh vegetables and is non-toxic in amounts and compounds normally encountered. The metal does not accumulate in the body and is non-reactive with virtually all foods, drugs and cosmetics.
Taste, odour
Tasteless and odour-free, alu foil imparts no detectable taste or odour to foodstuffs.
Opacity
Foil is a solid metal. It transmits no light and is a total barrier to light including the UV spectrum.
Reflectivity
Reflects approximately 98% of radiant heat and light.
Non-magnetic
Aluminium is insignificantly magnetic and therefore provides excellent electrical shielding.
Recyclability
Aluminium is easily recycled. Plain aluminium foil can be compacted and re-melted. Laminated aluminium is processed to separate the supporting layers and the aluminium residue is reused in other applications. In addition, the energy contained in the thin foil component of a laminate can be recovered in the form of heat.