We are engrossed in presenting a broad spectrum of Aluminium Pharma Foil. Offered aluminium foil is extremely used for the packaging of various kinds of tablets and other medicines. These are tested on various quality parameters to ensure their quality. In addition to this, offered printed aluminium foil price is provided to our respected at most reasonable rates.
Offered aluminum foil paper is tested on various quality parameters by our expert quality examiners so as to assure its quality at client's end. Widely used for various packaging options, offered paper can be obtained from us at most affordable price range.
Application of colorful printed aluminum foil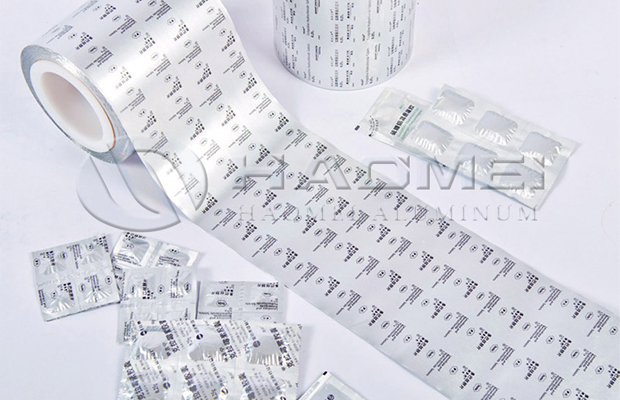 Together with PVC base or Cold forming foil to pack pills, capsules and tablets.
Suitable to pack candy, chocolate and gum by blister.
SPEC of printed aluminum foil
<0.007 mm printed aluminium foil
007 mm – 0.09 mm printed aluminium foil
09 – 0.2 mm printed aluminium foil
2 mm – 0.4 mm printed aluminium foil
On the basis of application, the printed aluminum foil packaging market is segmented as –
Food
Dairy
Bakery & Confectionery
Ready-to-eat
Others
Beverages
Pharmaceuticals
Personal care & cosmetics
Others
On the basis of end use, the global printed aluminum foil market is segmented as –
Bags & pouches
Wraps & rolls
Blisters
Lids
Laminated tubes
Trays
Aluminum foil printed lids are printed by the rotogravure printing press machine.
Characteristics
1. High precision printing, rich color
2. Clear pattern, environment friendly.
3. Corrosion resistance, to obstruct alcohol, essence, acetone.
4. Suitable for gamma ray sterilization.
5. Low temperature, heat sealing and anti pollution, the heat sealing temperature is 110-130°/s
6. Suitable for high speed automatic packaging machine.
Why Choose Us
1. As a specialized aluminum foil Manufacturer and Exporter of Aluminum Foil Seals in China. We've been in this area over 20 years
We owned a 8000 square meters factory with Dust-Free workshop
We got rich experience in Quality Control & Lead Time
2. Experienced in doing business with big customers in the world
3. Fast delivery time for decent orders
4. All the raw materials we used for final products are passed SGS Test with FDA Criterion They're safe for food contact directly
5. Free samples could be well prepared in a very short time