Haomei Aluminum is a manufacturer of aluminum foil buy for 8011 aluminum foil and 3003 aluminum foil. 8011 aluminum foil, 3003 aluminum foil, state O, H22, H24, thickness 0.04-0.13mm, width 150-1300mm. Aluminum foil are used in fast food restaurants, takeaway restaurants, home kitchens, high-end hotels and service industries related to packaged food. The aluminium foil produced by Haomei Aluminum has multiple advantages such as food grade, clean oil removal, less pinholes, good product shape, and no deformation when cutting. Haomei Aluminum is a listed manufacturer of aluminum foil materials. It can undertake orders for 5-2000 tons of aluminum foil raw materials. The product quality is stable, exported globally, and the price is affordable. You can purchase with confidence!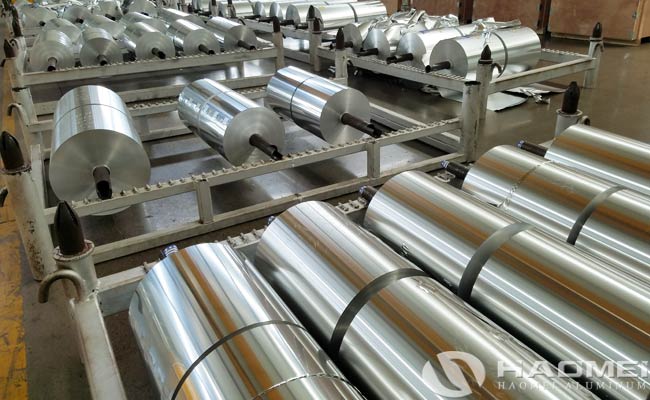 How much is the price of aluminium foil buy? When it comes to this question, we have to look at the specific product model and choose it. Relatively speaking, it mainly depends on the thickness, width and grade of the product. In addition, users should also pay attention to the fact that different aluminium foil manufacturers have differences in workmanship, technology, materials, and profits, and the prices of their products will also have certain deviations. This requires users to weigh the pros and cons. Try to buy products that are of good quality and more affordable.
Advantages of Haomei Aluminum foil:
1, Strong
Haomei Mingtai Aluminum is a large-scale professional aluminum sheet, strip and foil manufacturer with strong research and development capabilities. It has a team of 313 technical experts, technology research center, and a 3300mm wide "1+1" hot rolling production line; independent Research and development (1+4) hot continuous rolling production line; own more than 20 production lines and more than 60 large-scale processing equipment developed by Germany, South Korea, Italy and self-developed; can process thickness 0.01-300mm, width 11-3100mm. Customized production is possible.
2, Guaranteed quality
The product qualification rate is high, the 6S management system is implemented, the reliable large-scale suppliers are selected, the quality is controlled from the source, and the raw materials are selected with high quality. The production technology is exquisite and rigorous, the production process is checked at every level, the quality inspection strictly controls the production process, and the high-quality product performance begins with the quality supervision at all levels.
3, Thoughtful and perfect after-sales service
Haomei Aluminum provides you with a full-process, integrated, butler-style service. For each order, from pre-sales consultation to after-sales delivery, we track it in time to ensure that users can harvest safely. Butler-style service, caring, and more worthy of your trust.