How thick is aluminium foil? Generally aluminium foil thickness ranges between 0.009mm and 0.2mm. In practice, there is even 0.5mm. Different thicknesses match different aluminium foil uses. Here we will give a detailed introduction to thickness of aluminium foil.
  How Thick is Aluminium Foil
  The aluminium industry divides its products by thickness into aluminium sheets and aluminium foil rolls, in which it regards sheets with a thickness below 0.2mm (sometimes even 0.1mm) as foil materials. If you do a careful research, however, you will find that the thickness of aluminium foil reaches 0.5mm and even more in some practical uses. Thus the thickness range is developing with technology and process. Thinner and thicker foil rolls are produced nowadays. Here we list aluminium foil thickness ranges related with different uses.
  Aluminium Foil Thickness and Its Uses
  A. Food container aluminium foil
  The thickness of food container aluminium foil is generally between 0.03mm and 0.20mm, and can be divided into wrinkle and wrinkle-free. In fact, it is a 3 or 8 series aluminum ingot raw material. After cold rolling or hot rolling, it has a uniform thickness, smooth surface, no pinholes, no dust particles, no odor, aluminum foil parent roll. The production process is a one-time automatic cold stamping forming of special equipment and molds. Alloys available for food container aluminium foil rolls are 8011, 8006, 3003, 5052, 3004 aluminum foil.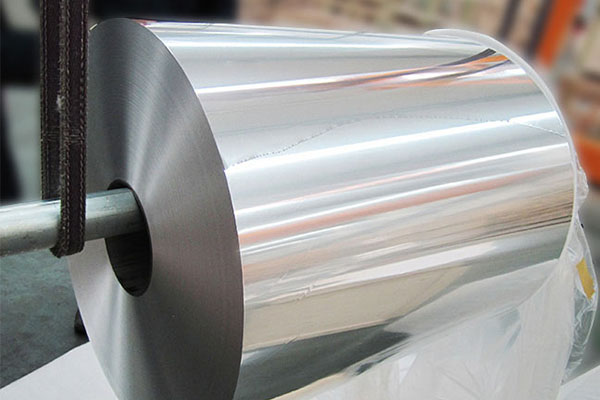 B. Medicinal aluminum foil
  PTP medicinal aluminum foil: alloy 8011 aluminum foil, state O, H18, thickness 016-0.5mm
  Blister medicinal aluminum foil: 8021 aluminum foil, state O, thickness 0.04-0.065mm
  Tropical medicinal aluminum foil: 8021, 8079, state O, thickness 0.016-0.2mm
  Aluminum foil for medicine cover: 8011 aluminum foil, state H14, H16, thickness 0.016-0.5mm
  C. Aluminum foil for aluminum foil bags
  The raw materials of aluminum foil for aluminum foil bags are mainly 1 series, 3 series and 8 series products, mainly including models 1060, 1100, 3003, 8011, 8021 and the like. According to the requirements of the packaged products, the hardness and hardness of the alloy, that is, the alloy state, are selected, and the commonly used states are H14, H16 and H18. The thickness of aluminium foil rolls ranges from 0.014mm to 0.2mm.
  D. Sealing liner aluminium foil
  The sealing liner aluminium foil thickness ranges from 0.016mm to 0.5mm. Aluminum sealing liners are non-toxic and odorless. In addition, it has a good antibacterial ability. Generally speaking, microorganisms cannot grow on it, for the surface is clean. Further more, aluminum gaskets made of aluminum foil rolls are opaque, so it is very protective for solar light sensitive products.
  E. Transformer aluminium foil
  The transformer aluminium foil is better known as transformer aluminium strip 1060 in the international market, simply because it's usually made into the shape of strips. Its thickness ranges from 0.2mm to 3mm.